Posted on Tuesday, April 3, 2018
---
---
10 Small Romantic Gestures For Your GF
Every relationship is exciting at the beginning. You flirt a lot and feel the excitement that makes both of you dizzy all the time. Then, you start to get used to the excitement and each other. No matter how well your relationship is going, you should keep it exciting all the time. To make your partner happier, you do not have to make grand gestures or big surprises as you might think. Your girlfriend will lose her mind when you make a romantic gesture for her, especially if you are in love and in a relationship for a long time. Making small romantic gestures will keep your relationship fresh and exciting. The more your girlfriend gets happy, the more she will love you. You can make your girlfriend's day with a small romantic gesture. You will also get happier seeing your girlfriend smile all the time around you. You can heat up your relationship and make your girlfriend the happiest person on earth with these romantic gestures listed below.
1. You can make a playlist for your girlfriend adding her favorite songs of all time to the playlist. You can also add the songs that you think she might like so that you can play it whenever you are together. I am sure she will play that list all the time thinking about you. You should be aware of the fact that you will make the playlist for her to make her happy, not for yourself, so you should choose her favorites over yours.
2. Playing with your girlfriend's hair to make her feel the affection of your love. Touch or grab her hair while sitting on the couch and watching a movie together, and she will not even realize that it is a gesture. She will only feel comfortable and secure with you when you play with her hair. Your girlfriend will feel loved if you touch her hair gently.
3. You can also surprise your partner with something thoughtful and make her feel the romance. You can buy her a gift, something that she wants to get for a long time. You can buy a ticket to her favorite band's concert and take her there without giving her any hints about your surprise date. She will be happy for both for your sweet surprise and for seeing her favorite band's show that night. She will also see that you think and care about her.
4. You can make your girlfriend's morning coffee and bring it to her before she gets out of the bed. She will love it and appreciate it a lot. You will also have made a few minutes more for her to get ready in the morning and it will be priceless for her to have more time to get her eyeshadow done in the morning. Besides, you will make her start the day positively by only bringing her coffee to the bed.
5. Touch your partner more, and refresh the romance of your relationship. Touching someone is the best way to show someone your love. You can give your girlfriend a massage after a long and tiring day to make her feel relaxed and loved. You can keep her in your arms while watching a series together. You can hold her hand while taking a walk together. Even kissing your girlfriend to thank her will also make a romantic gesture instead of saying it alone.
6. Apart from sharing your love, you can share something with her to show her that she has a huge place in your life as well as she does in your heart. You can order food for one and share it with your partner. You can share your clothes with her letting your girlfriend wear your t-shirts or sweatshirts. Doing it will make her happy and remind her of you during the day as well. Besides, you can share some of your time with your partner by starting a new series with her and watching it only together. It will be the most romantic gesture for her seeing you making plans for the near future for the two of you.
7. Telling your girlfriend that you love her must be the most romantic thing that you can do for her. You can tell her that you love her in different ways and you should choose some unusual ways to tell it so that you can make her get surprised as well. You leave some love notes on small paper in the house where she can see them. You can also text her or call her during the working hours and tell her that you love her. I am sure she will not stop smiling on that day.
8. You can buy flowers for your girlfriend. I know this sounds cliche, but women love flowers. There is not any chance that she can ignore this romantic gesture. She will like the flowers as much as she gets surprised. After receiving the flowers, she will want to kiss you for this gesture most probably. That's why I advice you to be around her, and even bring the flowers yourself instead of ordering or sending them.
9. You can help your girlfriend with something she struggles with to show her that you love her and want to make her happy. If she is too busy for the grocery shopping, prepare the list and offer her to do the shopping so that she can concentrate on her work better. If your girlfriend feels too lazy to go out of the bed, you can take your dog out for a walk in the morning letting your girlfriend sleep an hour more. You can even help her giving tying her hair for her right after she polishes her nails. There is no way that a woman does not see and appreciate this gesture.
10. To make a romantic gesture, you can compliment your girlfriend at the most unexpected time for her. Do not compliment your partner only when she dresses up. Try complimenting her when she has no makeup or when feeling insecure about herself. Tell her how beautiful she is right after she gets out of the bed, or after she wears her pajamas and gets ready to go to bed. Then, you can see how much a compliment can make a woman happy.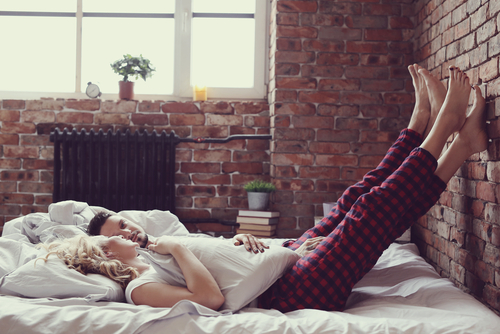 ----
For more articles check out our blog posts. If you are ready to find the one for you, sign up or log in to your Waplog profile and date until you drop. Have fun.
---